Post by kaiserleomon on Sept 2, 2019 17:09:49 GMT
Earth-18. Saganowana the Super-Chief and Justice Riders formed by Super Rider / Atticus Kent ( of special Elseworlds Superman: A Nation Divided), the Dark Knight / Bruce Wayne (cowboy of old West of Elseworlds Batman: The Blue, The Grey and The Bat) U.S. Marshall / Diana Prince , J'onn Jones, Hawkman / Katar Johnson a Cheyanne Indian who can fly with artificial wings , Booster Gold a mercenary outfitted with powerful guns by an eccentric inventor, Ted "Beetle" Kord , Guy Gardner, a Pinkerton Agency private investigator who wants to arrest Kid Flash for the death of a lawman called Barry Allen , Strongbow, El Diablo, Madame.44, Ahwehota the Windrunner , The Trigger Twins, Firehair, Tomahawkman, Johnny Thunder, and Pow-Wow Smith they fiercely protect the frontier of the world where time permanently froze in the 19th century . Here human ingenuity is used to extract the resources of the "uncivilized peoples" but the genius of a few such Steampunk fantasy films with technological gadgets powered by powerful steam boilers such as airplanes, ships, submarines, cars, war tanks , steam golens, battle armors, steam forts and even steam starships can produce possible prodigies Only for science and technology of the 21st century in Earth-1. I based the other characters that I quoted in the comics book special of the line Elseworlds "Justice Riders" this :
and I took the opportunity to mention two more specials from the Elseworlds line with DC superheroes "Superman: A Nation Divided" with Superman cowboy Atticus Kent during the War of the Secession between the North and the South of the USA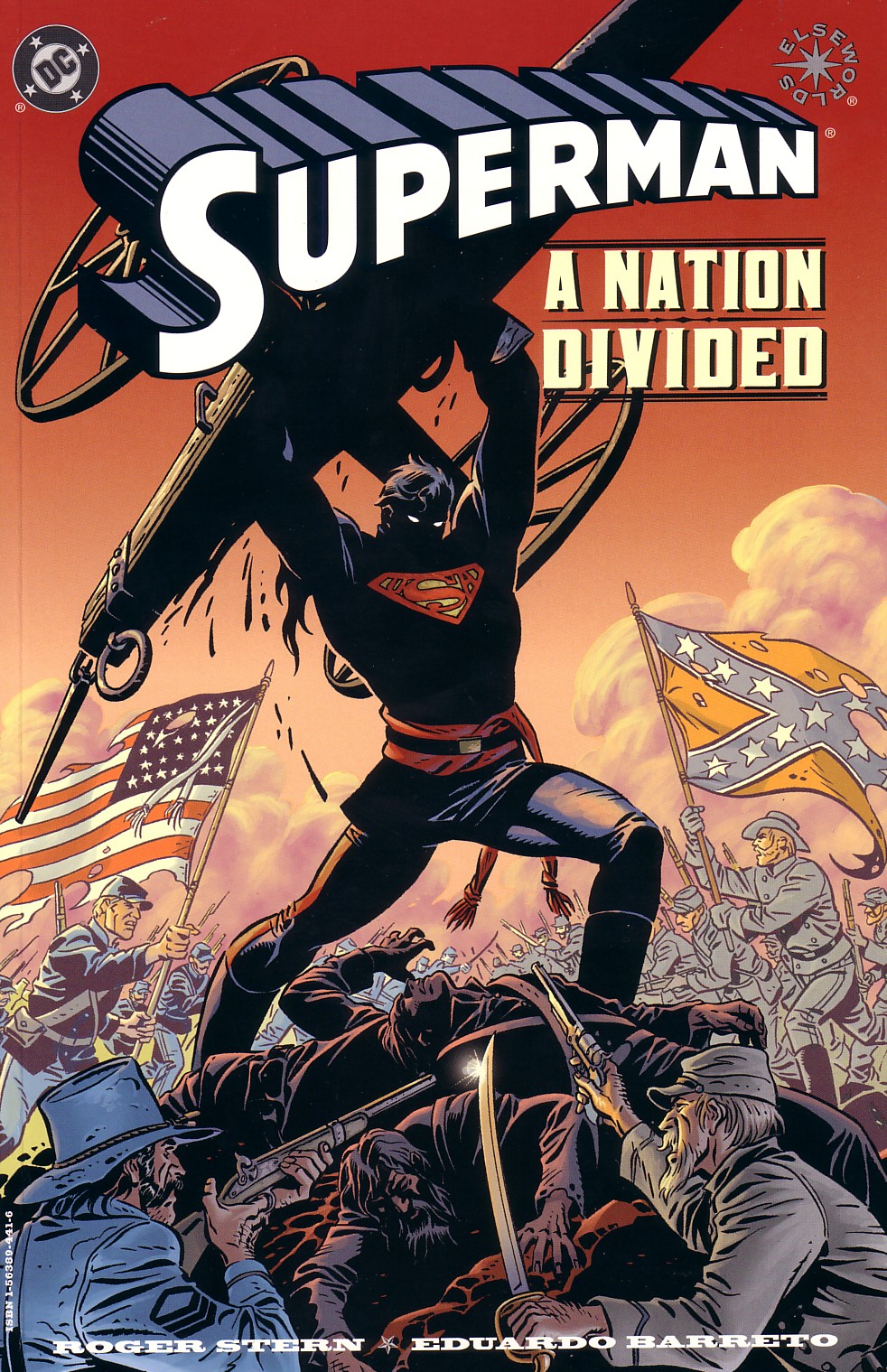 and more this
Real Name: Atticus Kent
Class: Hypertimeline (Earth-A Nation Divided) extraterrestrial (Kryptonian)
Occupation: Soldier, secret service agent
Group Affiliation: None
Known Relatives: Jor-El (father, deceased), Lara (mother, deceased), Josephus Kent (adoptive father), Sarah Kent (adoptive mother, deceased)
Aliases: None
Base of Operations: Kansas, Civil War era, Earth-A Nation Divided
First Appearance: Superman: A Nation Divided #1 (1999)
Powers: Superman, like all Kryptonians, gained superhuman powers while under a yellow sun. He had incalculable levels of superhuman strength and invulnerability. He possessed the powers of heat-vision, telescopic vision and flight. He rode a mechanical horse fashioned from his Kryptonian birthing matrix.
History: (Superman: A Nation Divided #1) - When Kryptonian scientist Jor-El realized Krypton was doomed he sent the birthing matrix of his unborn child to Earth. His child, the last Kryptonian, was born on Earth and discovered by a Kansas farm couple, who named him Atticus Kent and raised him as their own.
<1863> The Kents were fierce abolitionists who hid the Johnsons, a family of escaped slaves, from bounty hunters. When Mr. Johnson joined the Union Army Atticus was inspired to do the same. During a skirmish with Confederate troops Atticus was hit with a cannonball. He was unhurt, but enraged enough to tear through the Confederate troops, single-handedly capturing Vicksburg for the Union. Ulysses S. Grant was mystified by Atticus' powers, but nonetheless dressed him in a patriotic costume and made him the Union's number one secret weapon. Because of his efforts the war was over by July and the casualties on both sides added up to only one thousand men. Later that year Atticus prevented an assassination attempt on President Lincoln at Ford Theatre.
<1865> Atticus' mother Sarah passed away, and Josephus Kent revealed that he was not his biological father. Josephus showed him the birthing matrix where Atticus crash landed on Earth. Touching the matrix Atticus received a pre-programmed message from Jor-El that revealed his Kryptonian heritage. Atticus also leaned that Jor-El had wanted him to preserve the sovereignty of Native Americans. Atticus realized that he was too late for that, but nonetheless left Kansas to live with Native Americans and seek his destiny.
And the Batman Cowboy of Old West style "Lone Ranger" of the special of Elsewords line "Batman:The Blue,The Grey and the Bat . This One :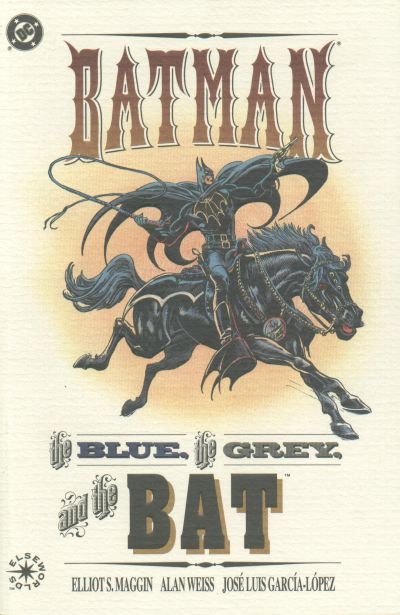 Batman: The Blue, The Grey and The Bat cover by Alan Weiss and Jose Luis Garcia-Lopez .I picked up this book on a whim from my local shop, when I saw it in a stack with a couple other Elseworlds titles: Red Rain and the second installment- Bloodstorm, Dark Allegiances and a nice looking Arkham Asylum trade. I thought they seemed interesting, and I was hoping to build up a few different stories to try and incorporate into a "retro" or "throwback" review segment. So that is this book, and this review. So sit back, relax, and go back in time with me to January of 1992 when this book was released, and then back even further back to America during the Civil War (1863, to be precise).
If you're anything like me, you would be able to (at least guessing) figure out that this book is probably about the "war between the states" (aka the Civil War in America) from the title's incorporation of the colors blue and grey in the title. Not to mention it seems VERY old timey, because there is a Batman on horseback, and that hasn't been very popular in Batman storytelling since the Dark Knight Returns (at least that I remember, anyway).
The book opens immediately with some narration setting the scene of the Civil War, and President Lincoln's predicament, where someone is stealing federal reserve silver and gold and in doing so, is effecting the war efforts in the north. So President Lincoln tasks Batman with trekking across the country to the Wild West, and using his skills to find out who is stealing the silver and gold, and stop them. So right away, I was expecting to see a lot of Batman just straight up punching bad guys clean off their horses on like every page- but this is an Elseworlds book, so all bets are off. Batman uses guns in this story, which really threw me for a loop at first, but I was able to slowly settle into this idea and accept it.Batman (as a "fop" aka Bruce Wayne) as a Union Officer, travels by stagecoach cross country to, through some VERY contrived scenarios, meet up with the different "secret" government agents, who would come to aid Batman's quest for justice in the Wild West.
The fact that the Red Robin character was a half-blood Indian warrior was a bit off putting, but not half as much as off putting as the fact that all of the African American men living in the mining communities, who agreed to fight alongside Batman as an informal militia were referred to as "The Dark Knights".
This really just made me shake my head. I mean, this book isn't THAT old, it is still considered a Modern Age comic, but it doesn't really come across as such, at least in parts.I did like how the book LOOKED- the artwork is fantastic, and also helps to belie just how old this book is. It doesn't have the art style of a 23-year-old comic, and I really like that. It helps to make this book look like a timeless story. The story, as a whole, is fairly solid, and it had a really good pacing to it- I was able to read this all in one sitting, though since I paid quite a bit under cover price for it, to have paid $6 for this book two decades ago, I would probably have felt a bit cheated.
Batman's horse, Apocalypse, was a really interesting addition to his "crew" in this story- rather than having him use some sort of railcar, or a stagecoach, to just have a bulky and pitch black horse as his "Batmobile" was a nice twist. I did really like the way Batman looked in this book as well- he was much like the old-school Batman; he smiled a lot, even wearing the cowl. The addition of guns just made it feel like it could have been a story that was shelved during the early days of The Dark Knight.I wasn't completely sold on the twist that came at the end of the book, when it turned out that someone close to Batman was the secret leader of the bad guys all along, and Batman convinces the lower level bad guy (who got double-crossed by that secret leader) to join him in bringing down the leader. The big showdown was really beautifully drawn, but I didn't really feel much emotional attachment .