Post by dans on Jul 22, 2022 21:03:49 GMT
TIP TOE COMICS #54 (Friday, 8/31/1940)
Introducing: Mirror Girl - The Girl Who Isn't There!
(I may change her name going forward - any suggestions?)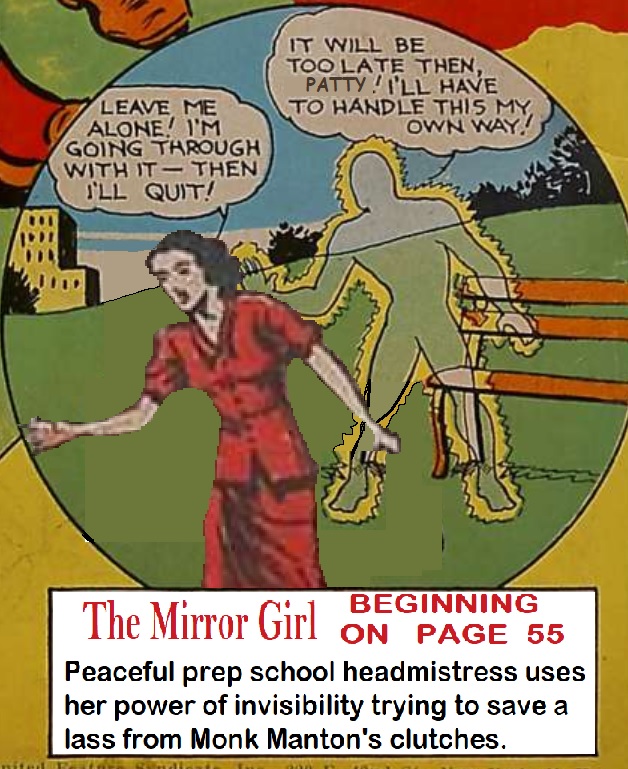 In the office of Deann Alder, Headmistriss of the Alder Academy for Young Ladies, a short commute outside of New York City, summer of 1940... Deann is involved in a serious discussion with her friend Drew Thorne, the warden for the nearby Downstate Reform School for Girls.

***
"So, Drew, tell me more about this girl Patty, who you say needs some help?" This was Deann, a sturdy woman, above average in height, with wavy brunette hair to her shoulders, and a squarish face that was handsome rather than beautiful.
"Patty Simmons is a good girl who fell in with some bad company, and she ended up in my care. Her behavior was exemplary while she was in the School, but she's been having a tough time since she's been released. She needs to help support her younger brother, but nobody will give her a job, and she's discouraged. I'm afraid someone from Monk Manton's gang is going to dangle easy money in her face again - and she'll be in trouble again!" She handed over a folder. "Here's her address and case history."
Deanne nodded gravely. "OK, Drew - I can't help her as Deann Alder, but maybe as <Mirror Girl>..."
"<Mirror Girl> has done SO much good for kids - especially girls - over the past few years - that sounds wonderful! I just KNOW you'll be able to help!" Drew smiled brightly and sounded relieved. Then, curiously: "But say, you've never told me just how you got to BE <Mirror Girl>?"
"You've known about me being <Mirror Girl> for years and never told anyone - I think you deserve the rest of the story," Deann agreed. "It's like this..."
"You know that before I bought the Academy, I used to work in Hollywood, right?" Drew nodded. "I was a bit player and a stuntwoman. We were in Tibet, filming
Last Horizon
..." She paused for an instant with a questioning glance, and Drew interrupted her excitedly.
"YOU worked on
Last Horizon
? It's my favorite movie - I've seen it 3 times! Buster Crabbe is to die for!" A second's pause for thought. "Saaayyy..."
"Yes, I got in the film as an extra, and no, I never made time with Buster. No, my names not in the credits and you can't actually see me," Deann laughed. "You know the mob scene at the beginning, where Buster Crabbe's character barely makes it onto the plane with that giant fire in the background? And Connie Moore's character is already on the plane? I'm somewhere in the mob." They both laughed - it was dark and the light was flickering and almost nobody in that scene was recognizable.
"Anyway, we were filming on location in Tibet, and set up near a monastery - actually, a lamasery - and one of the other extras got drunk and tried to shoot Looba, the High Lama. I barely tackled him in time, and the rifle bullet missed. The extra ended up in lamasery jail until we came back to the States, and then he was fired. But that night, after dinner, several monks requested that I attend the High Lama - and he gifted me with the Gossamer Garment. At least, that's how they translated the name - although it's more than that. Anyway, they told me that the Gossamer Garment can grant the wearer great mystical powers, if used in a good cause."
"Me? I'm a good Christian girl and don't believe that Oriental mumbo-jumbo - or at least, I didn't - then. I put that outfit on once before we finished filming, in private, and I thought it made me look chunky and indecent! It is skin tight and shows off every little bump. I've never been the pin up type, you know, but it would probably look GREAT on Harlow! Anyway, I never wore it again for years."
She paused, reflecting a bit sadly on the good <Mirror Girl> might have done in those years. "Then one night, I was reading my diary from that trip, and I thought I'd try it on again. I stood in front of the full-length wardrobe mirror, and you know, it really looks a lot better these days! I've lost a lot of baby fat since Tibet!" She was very enthusiastic about that! "I was turning to get another angle when I stumbled over the ottoman, and fell against the mirror - except... I fell INTO the mirror! Except... I FINISHED falling out the back of the mirror! I fell totally THROUGH the mirror and into the closet!"
"Suddenly I thought I understood the 'Gossamer' reference - I felt as light as a feather! I looked down in amazement, and then screamed in panic! All I could see was a very dim, almost invisible pale blue outline. I stood up and realized I was INSIDE the wardrobe and I PASSED THROUGH all my hanging clothes!!! I was so dizzy I stumbled and FELL THROUGH the side of the wardrobe back into the room. I went crazy for a few minutes, but I finally calmed down enough to try to remember everything Looba told me about the Gossamer Garment. To return to normal, I had to pass through the back of a mirror and come out the front. I did it - and it worked! Thank goodness!! I spent a few hours learning more about my new powers, and the next day I started my new career as <Mirror Girl> - or, as they like to put in the headlines, 'The Girl Who Isn't There!'. So, now swear never to divulge my secret!"
Drew was happy to make that promise, particularly since her friend was going to try to help Patty Simmons... But Heidi Halbrook, the maid, eavesdropping in the next room, wasn't. She was already scheming how SHE could get hold of that costume!
***

Deann stood in front of her full length free standing mirror for a second or two, admiring the image of <Mirror Girl>... clad in a skint tight brick red body suit that covered her completely, with cutouts for the eyes and a slot in the back of the neck for her hair. There was no emblem on the chest, or boots and gloves, and she wore an unusual black belt that had a tall black diamond across her stomach and there was a white emblem in the center of the diamond. It was some kind of mystical symbol, though she had never figured out how to describe it well. She saw a woman who was athletic rather than curvy, a shape she had worked hard on and was proud of. An then she strode forward and walked into the mirror - and the room was empty.
Well, not really empty, yet... In pitch black without any moonlight, or inside the closed wardrobe, an observer might have been able to see a very dim pale blue ghostly figure, but in anything other than total pitch blackness, <Mirror Girl>'s aura was invisible. The invisible <Mirror Girl> circled back to the front of the mirror and stepped into it again - and now the room truly was empty.
A few seconds after <Mirror Girl> vanished, the door pushed open slowly and Heidi Halbrook pushed hesitatingly into the room, awestruck at the incredible sight of someone walking into a mirror as if it were an open door. Now, even more than before, she was determined to obtain the Gossamer Garment as her own!
***

A small fraction of under half of a split instant after the invisible, intangible <Mirror Girl> entered her own mirror the second time, she stepped out of a storefront window onto a city street, still invisible and intangible. This store was the closest location she could remember to the address she'd been given for Patty Simmons. A short time later, she was standing in a trash-strewn alley behind a dilapidated building, facing an entrance next to an equally dilapidated sign which read "ROOMS".
'
This place has definitely seen better days!
' she observed mentally. '
It looks like she really DOES need some help! This place wouldn't be safe for the toughest crook, much less a girl!
' She walked through the door and climbed the stairs to the third floor, then pushed through the door into 3D, a ratty two room 'apartment' with threadbare rugs and walls and ceilings with peeling paint and big chunks of plaster missing. As she had hoped, Patty was home. As she had sort of expected, Patty had a guest. He was sitting backwards on the only chair in the place, arms curled on the top of the back; she was sitting on the bed. She didn't seem happy with what he was saying, but she was listening.
"Cheez, kid, lookit this dump! I see ya ain't wised up yet! Ya know once ya get outta stir, nobody'll never givya a break! Why not c'mon down and talk ta Monk wit me? He'll give ya a break - and I'll even put inna good word for ya..." He leered, clearly hoping for a reciprocal favor in the future.
"Maybe you're right, Parker. Do you think he'll give me a loan? My kid brother Petey needs an operation, but my folks are broke... they want me to move home with them, but they're too broke for that too..." Patty had short curly black hair and was probably normally attractive, but she was so despondent and sad that it was impossible to tell right now.
Parker sat up abruptly at her words and though Patty wasn't looking at him, a look of triumph flashed across his face. "That's right, kid - I'll bet he will! Or mebbee he'll offer ya a job 'steada a loan."
"I wouldn't go if I were you, Patty!" <Mirror Girl> spoke loudly and flatly.
"What did you say, skirt?" Parker demanded angrily, rising to his feet.
"It wasn't me, Parker! I didn't say ANYTHING!" Patty responded, suddenly scared at Parker's furious demeanor at being contradicted by a skirt.
"It was I, <Mirror Girl>, who spoke. I warn you, Patty - don't go back to Manton!"
Parker whirled to face the source of the voice and pulled his pistol. The voice continued, unconcerned.
"Parker, you can shoot as much as you like..." Parker pulled the trigger and a bullet thudded into the far wall, but the voice continued, unruffled: "...but you can't hurt me, any more than you can hurt your reflection in the mirror!"
Parker bolted for the door. "Come on, kid, let's get outta here! It's a ghost!"
The disembodied voice followed the two out the door. "It doesn't matter where you run - I'll always find you, when I want to!"
Down the stairs, out of the alley, Patty followed the rushing Parker, who headed to Monk Manton's hideout. Just outside, he stopped. "So, kid, since weze here anyways, c'mon in and talk ta da boss. But say, there ain't no sense in tellin' him 'bout what we heard - he'd think we wuz nuts or somtin' and just toss us both out on our ears!"
<Mirror Girl>, who had followed them, was saddened but not surprised at Patty's response. "Guess you're right, Parker! Do you think Monk really will advance me some dough? Petey really needs that operation, bad!"
"All ya gotta do is ask, kid," Parker assured her. '
Boss'll give me a nice bonus fer gettin' her back
!' he thought smugly as he led her into Monk Manton's 'inner sanctum'. Followed, invisibly, by <Mirror Girl>.
***
"Glad to have you back, kid!" Monk Manton was a heavyset man with a double chin, wearing a poorly fitted suit. (He looked kind of like Jackie Gleason from the 1961 TV variety show, The Jackie Gleason Show (though Jackie dressed much better, and the show was still some 20 years in the future during this story...). He always had a big smile, though some people found that that smile was disturbingly reminiscent of a predator eying prey... "Hear ya been havin' a tough time."
"Yeah, I need some dough bad, Monk. Gimmie a chance, will ya? But just this one job, 'cause I need the cash right away. OK?"
"Sure, kid, sure. And all you gotta do is faint, and you get 500 smackers for it!" He chuckled with satisfaction and turned to the rest of the mob. "OK, the rest a'ya mugs got the layout? Tamarah, the skirt walks into the bank at 2 minutes to 12. At 1 minute to 12 she goes into her fainting routine. At 12 sharp, Parker and Putty-face storm in and clean out the bank. Blast anyone that gets in your way!"
There was a mutter of agreement, and everyone went about their day. <Mirror Girl> followed Patty to a nearby park, and plopped down on an empty bench next to her.
"Patty, you're not really going to go through with it, are you?" she asked sadly.
"Who ARE you? WHERE are you? Why don'cha just bug off and leave me alone?" Patty demanded.
"I'm sitting right next to you, Patty. Don't be frightened." She paused for a second, then, "If you give up Monk and his gang..."
Patty didn't let her finish. "I must be nuts, talkin' to nobody and nothing but air! But... If there IS somebody there, I want to tell you... there ain't NO work for nobody that's been in reform school! And none of the nice guys look at me twice!" Without waiting for a response, she jumped to her feet and hurried away. Looking back she demanded: "Leave me alone! I know what I'm doing! One job, to get money for Petey's operation, and I'll quit. And you just keep your nose outta my beeswax!"
"One job'll be one job too late, Patty!" <Mirror Girl> started to object, but Patty turned away, put her head down, clenched her hands and her jaw, and walked even faster. Deann sighed. '
I'll guess I'll just have to handle this my own way!'
***

The next day, a girl walked into a bank and asked for change for a $10 bill, her advance against the 500 smackers she expected to take home later. The teller was a little surprised... you didn't see young women flashing that much cash very often! She took the bill, held it up to the light, folded it and rolled it between her fingers. Patty was getting more and more angry at such blatant disrespect from the teller that she almost... but not quite... forgot her lines.
A loud moan... she bent forward and steadied herself with one hand against the teller's window, the other going to her forehead. "Oh, no... so dizzy... can't breath... going to fai..." She fell against the counter, started slipping toward the floor, and made a vain attempt to stop her collapse, scrabbling at one of the trays, and then crumpled to the floor, her eyes closed. 3 bank guards raced toward her, and the manager jumped up from behind his desk to push into the main lobby, and everyone turned to look... and the front door crashed open and two men carrying Tommy guns raced in. They had the drop on the bank guards; no one dared resist.
"Line up against the wall, alla you!" Parker ordered. "You tellers, alla you put your hands on the grill! The phone and burglar alarm wiring has already been cut, so don't try any funny business!"
'
This is the part about being <Mirror Girl> I HATE!
' Deann thought. She was standing right next to Parker. '
Hurts like HECK and I'll be out like a light for at least 10 hours when I finally get home...
' She concentrated, and gasped at the sudden intense pain in her hands and forearms - almost as if she'd stuck them into a blast furnace. '
Wish Looba's magic was a little easier on me!
'
At least the loud, painful gasp out of thin air startled Parker for an instant - and in that instant, she announced herself. "Drop those guns, you two! You're all washed up!" She launched a powerful right uppercut, learned during her job as a stuntwoman, and Parker was knocked off his feet and backward. His trigger finger clenched as he fell and he fired a short burst harmlessly into the ceiling of the bank before he dropped his chopper.
Meanwhile, Patty sat up and hollered: "Give it to 'em sister! I'm with YOU!"
<Mirror Girl> turned her attention to the other bewildered gunman, and hit him with another invisible punch, and then yelled back, "Good work, Patty! I KNEW you'd come through!" It took a few more seconds for her to subdue him and grab the chopper to keep it aimed away from the crowd.
During those few moments, there was chaos in the lobby, and while everyone's attention was turned to the second hood seemingly being thrashed by the empty air, Parker struggled to his feet and staggered out the door. Patty spotted him, sprang to her feet and raced after him yelling "Parker's getting away. I'll stop him!"
<Mirror Girl> pulled the chopper from the thug's hand, reversed it, and slammed the butt into his head. "Hold him, Patty - I'm on my way!". She carefully put the Tommy gun down on the floor and then pushed it to slide toward the wall, then turned and headed for the window of the bank. There was a brief instant of pain in her forearms, and then she dove at the window - and her again totally intangible form passed through it.
She reached the street just in time to see the brave girl grab Parker by the shoulder. Parker swung around and slammed a single punch to her jaw, while he growled "This will hold you, you stinking witch!". Patty staggered backward, tripped and fell, and her head struck the granite cornerstone of the bank building. She slumped to the sidewalk, not moving. For real, this time!
An enraged <Mirror Girl> didn't even notice the momentary pain in her forearms before she reached Parker. Likely very few people in history had ever witnessed what the crowd on the street saw next; a bewildered man being beaten mercilessly by an invisible adversary.
"I'll teach you to never strike a woman again!" Deann thundered, as she landed a mean one-two, snapping his head back and spinning him around. He tripped and fell backward, and then squirmed and rolled as if he were having a fit, while something no one could see struck him in the face several times, opening cuts that began to bleed profusely. Fortunately for Parker, the sight of blood on her otherwise invisible hands jolted Deann out of her rage. When she realized that her foe was limp and unconscious, she forced herself away from him, and for an instant stood invisibly over him, then turned her attention to Patty. The young woman was breathing and there was a man kneeling next to her with a Doctor's bag.
"She'll be OK - probably has a concussion and needs a few days to recover."
He and those around him were startled when they heard a voice from the air. "Her name's Patty Simmons, Doc. Can you look up her folks?"
***
Still invisible, <Mirror Girl> turned back to the bank and once again walked into the window. A small fraction of under half of a split instant later she was stepping back into her apartment through her wardrobe mirror. She stepped into the closet and then stepped into the mirror from behind, and the solid figure of Deann Halper, still in the skin-tight brick red Gossamer Garment, stepped out of the mirror into her apartment. "One more thing to do - and then I'm going to sleep for a week!".
She opened a safe and pulled out an envelope containing some bills, counted them - $200, and nodded in satisfaction. A quick stop at her desk, a quick note on the enveloped, then she tucked the envelop under the big black triangular belt buckle and stepped through the mirror again, circled it, stepped in again, and popped out the same store window she'd used earlier today - and then made her way to Patty's folks house. She walked through the wall and dropped the envelope on the dining room table. It became solid as soon as she released it.
Then she turned back the way she'd come. "Lucky I only weigh a few ounces!" she chuckled wearily to herself. "Even so, it's lucky I don't have to walk all the way home, too, or I might pass out in an alley!" She shuddered at the thought of alley traffic passing through her intangible form as she slept! Then she stepped into a window and out her mirror, circled the mirror and stepped through again, and was solid. She was dragging herself wearily to the bedroom when something slammed into the back of her head, slamming her into unconsciousness just a few seconds before she would have fallen into bed unconscious anyway.
CONTINUED IN TIP TOE COMICS #55 TO BE PUBLISHED FRIDAY NOVEMBER 1, 1940